The capital, Corfu Town (Kerkyra), is one of the most elegant island capitals in Greece since it was spruced up for the EU summit in 1994. Although many of its finest buildings were destroyed by Nazi bombers in World War II, two massive forts, the sixteenth-century church of Áyios Spyrídhon and some buildings dating from French and British administrations remain intact. As the island's major port of entry by ferry or plane, Corfu Town can get packed in summer.
Corfu Town comprises a number of distinct areas. The Historic Centre, the area enclosed by the Old Port and the two forts, consists of several smaller districts: Campiello, the oldest, sits on the hill above the harbour; Kofinéta stretches towards the Spianádha (Esplanade); Áyii Apóstoli runs west of the Mitrópolis (Orthodox cathedral); while tucked in beside the Néo Froúrio is what remains of the old Jewish quarter. These districts and their tall, narrow alleys conceal some of Corfu's most beautiful architecture. The New Town comprises all the areas that surround the Historic Centre.
Corfu Town is a historical gem but also an administrative hub and home to the Ionian University, which keeps it lively even in the low season (in comparison to other island destinations, at least) and has everything that you need to have a great experience on the island, including restaurants, nightlife, beaches, and the historical sites and museums. However, there is so much more to the island than that! One of the best places to experience what life is really like on this Greek island, you need to visit some of its best villages. Here is a list of places you won't want to miss during your stay on Corfu: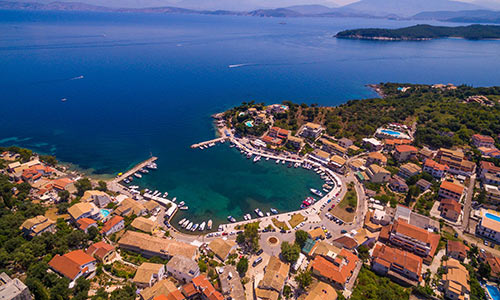 KASSIOPI
Kassiopi is 35 km north of Corfu Town. A small fishing village dominated by a Roman fortress, it is known for its gentle and relaxed feel. This is certainly the place to come if you want to eat some delicious seafood! After you're done walking the streets and spending time taking in the scenery, consider finding a nice taverna to sit and take in a meal. Picturesque beaches surround Kassiopi and the region is popular with diving.
LAKONES
Lakones is 24 km north west of Corfu Town and is a traditional village just above the beach resort of Paleokastritsa, close to Angelokastro Castle. If you love to hike, Lakones is a great place for you to be. This village is surrounded by hills and makes a nice jumping off point to explore the lush, green countryside by foot. Once you're done exploring the countryside, be sure to stop in one of the tavernas or restaurants for a delicious meal! You also won't want to forget to take plenty of pictures – this village is stunning!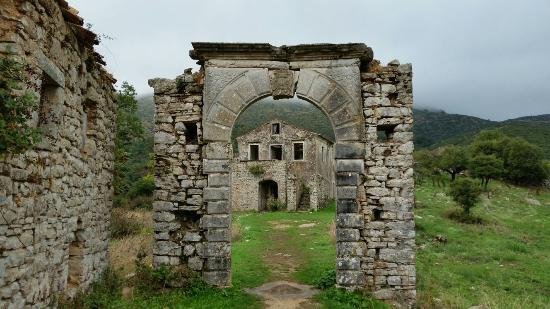 PALAIA PERITHEIA
Palaia Peritheia (Old Perithia) is about 40 km northwest of Corfu Town and is known as Corfus oldest village. Located on the slopes of Mount Pantokrator, this village seems to remain unchanged over the course of centuries.
The village is a protected heritage site whose 130 houses, many built in a Venetian style, lie abandoned in varying states of dereliction. A few civic buildings also survive, including a school that remained in use until the middle of the 20th century. Surrounding the village are eight churches, one for every 150 of the village's 1,200 former residents.
Old Perithia is no ghost town, however, thanks to the presence of a bed and breakfast and a handful of tavernas serving excellent mountain fare. Apart from good food, the village offers visitors a fascinating insight into Corfu's history, jaw-dropping views, and an ideal "base camp" for anyone wishing to hike up to the summit of Mount Pantokrator, which takes about an hour.
AGIOS MATHEOS
Agios Matheos is a mountainous village 23 km south of Corfu Town. If you want to venture away from the water and into the mountains? If so, then you should head to Agios Matheos! Far away enough from the main bustle without going too far. Besides having a great view of the mountains, there are some churches and monasteries her,e that are worth exploring.
PELEKAS
Pelekas is13 km west of Corfu Town. This small village is quite busy in summer. Due to its central location, it is used as a starting point for excursions around the island. People tend to stay here who don't want to be right in the city. With that being said, it is easy to see why it's so popular. There are plenty of things to do here while still maintaining a traditional feel. Pelekas is said to have the best sunset on Corfu.
BENITSES
Benitses is 12.5 km south of Corfu Town. Benitses has all the charm of a small fishing village with some of the bustle you would expect from a top tourist destination. In fact, during the winter, it is fairly quiet as traditional life returns to normal. but in summer it gets to, be one of the most popular tourist resorts.
LEFKIMI
Lefkimi is 41.5 km south east of Corfu Town, and is the second largest village and the second most important port of the island. It is one of the more traditional villages of Corfu with its narrow streets, tall houses, churches and cafés that remind us of the old days. Lefkimi is divided by a small river into two parts, this beautiful area is called Potami which literally means river. On one side of the rivers there are cafes and shops; The town is bustling and fun, there are striking contrasts between the traditional and the modern life. The saltpans of Lefkimi are so rich that they provide salt for th e entire northwest of Greece.
Near Lefkimi are some wonderful beaches, Molos, Alykes, Ai-Gordis, Kanoula, Limnes and Mikro Nisi.
SKRIPERO
Skripero is 18 km north of Corfu Town on the way to the northern part of the island. Skripero is a semi-mountainous village surrounded by high hills on one side and by green valleys on the other.
Quiet, small and traditional, it is perfect for relaxed holidays in authentic island style where most of the houses are original and in typical Corfiot architecture.
SIDARI
Sidari is 37 km north west of Corfu Town
Sidari is a very popular tourist resort predominantly catering to package holiday makers with lots of hotels, restaurants, bars, supermarkets, travel agents, vehicle hire shops, souvenir shops and even a campsite just outside the town. All this makes it perfect for those that simply want to stay close to their hotel whilst visiting many different places for lunch, dinner or evening drinks.
Some would say that Sidari has lost a lot of it's traditional Greek charm due to the way it's grown over the years, and this is probably true but you don't come to Sidari for Authentic Greek culture, you come for the convenience of everything on your doorstep including the fabulous Sidari beach which is arguably one of the best beaches in Corfu.
STRINILAS
Strinilas is 28 km north west of Corfu Town. High up in the mountains, a trip to he beautifully traditional village of Strinilas is a must. It is the highest village on the island and a great place for lunch with a magnificent view – you can also combine the trip with a visit to the summit of Mount Pantokrator.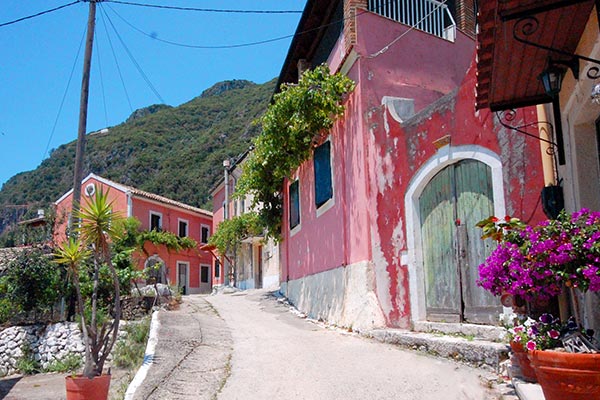 ANO KORAKIANA
Ano Korakiana (meaning Uppe Korakiana) is​ 19 km north of Corfu Town. It is one of the oldest villages on Corfu. According to written sources the village already existed in the 15th century and was a local centre for the production of olives and olive oil. It sits at the foot of the mountains Korentis and Korakio from which it got its name, and is characterised by quaint narrow streets, typical Corfiot stone houses and 37 churches and chapels. It's in close proximity to the beaches of Ypsos and of Barbati.
For hiking enthusiasts there is an amazing 'serpentine' trail (4km) from Ano Korakiana to Sokraki .
The village has a long tradition of choral music and is home to the famous 'Spyros Samaras' Philharmonic Society. Finally, Ano Korakiana is the birth place of Ioannis Kapodistrias who was the first Governor of Greece.
ARGIRADES
Argirades is 33 km south of Corfu Town and is a large picturesque village on the way to Lefkimi with gorgeous views. The village has its roots in the days of Venetian rule with narrow streets and well-preserved old homes, having been declared a preserved traditional settlement in 1977. A few kilometers from Argirades is Lake Korrision, a huge sandy area linked to the sea through a narrow strip of water. This entire area is a nature reserve for the protection of wildlife and flora.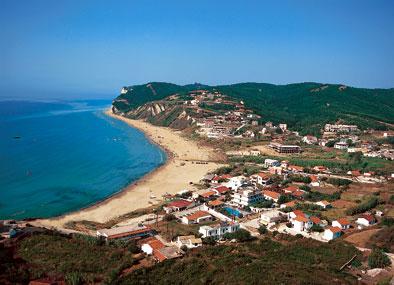 AVLIOTES
Avliotes, 40 km north west of Corfu Town is a small traditional village above the seaside settlement of Agios Stefanos and its beautiful beach. From its hilltop, enjoy a magnificent view toward Albania and the three Diapontia Islands.
Avliotes is also a listed traditional settlement.
GOUVIA
Gouvia, a popular tourist resort, is 8.5 km north of Corfu Town. Gouvia, a former small fishing village has developed into a modern holiday resort over the past four decades. There are shops and lively bars in the centre, plus plenty of traditional Greek restaurants for meze. As for the beach, it's a hotspot for watersports. Actually, Gouvia has several beaches, most of which come with pebbles.
International jet-setters moor their motorboats and million-pound yachts at Corfu's biggest yachting marina, which is just 10 minutes' walk from the beach. The waterside cafés and restaurants make great spots to soak up the atmosphere. And just behind the marina you'll find the grand arches of the old Venetian port still standing.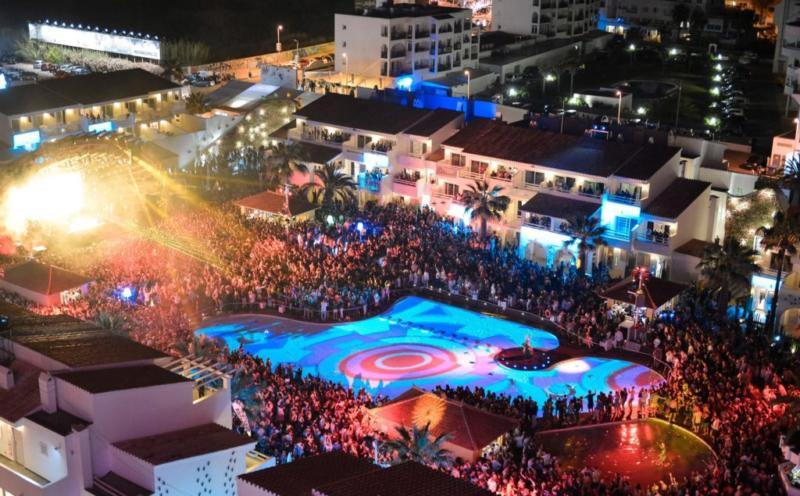 KAVOS
Kavos is​ 46 km south of Corfu Town. Over the last 20 years, Kavos has been hugely developed and today it is regarded as the top destination for British tourists. Kavos holidays are perfect for a fast-paced mix of vibrant bars, late-night clubs and high-octane water sports. And when you're ready to relax, there's an 8km stretch of sandy beach to enjoy while you soak up the sun, plus plenty of bars and cafés for a pitstop. You'll also find Aqualand water park nearby (a great place to cool down on a hot day). Kavos is the place to be for those who want to enjoy a fun-filled holiday in the sun.
KONTOKALI
Kontokali is 8 km north of Corfu Town and is pretty close to the action on Corfu's east coast. It's slotted into a sheltered bay with the neighbouring town of Gouvia, with a marina and sand-and-pebble beaches dressing the shoreline. Things are generally pretty sleepy, and the main focus is on lazy days or trips to Corfu Town. The beach set on the headland keeps Kontokali Bay beautifully tucked away from the Ionian Sea.
One of Kontokali's biggest claims to fame is its top-class seafood. One of the must-try dishes is bianco – this garlicky fish stew's a favourite in Corfu.
LIAPADES
Liapades, a small traditional village is​ 20 km north west of Corfu Town. It's not exactly on the beach (1-2km away) but is very close to Paleokastritsa, one of the most popular resorts on the island, and has the same coastline with scenic blue coves. Boat trips and boat taxis are available to take you to other beaches only reachable by sea in the area. It's a traditional settlement that has not been yet affected by mass tourism, retaining its natural beauty.
MORAITIKA
Moraitika is​ 20 km south of Corfu Town and is a very popular resort for families and young couples. it's based around a single road and a large beach that's great for snorkelling.
Moraitika offers a wealth of tavernas, pubs and bars to keep you entertained day and night. If you're looking for a lively but not crazy holiday then this is a good choice
PERIVOLI
Perivoli is​ 35 km south of Corfu Town. It is surrounded by two seas, the Ionian in the east and the Adriatic in the west. Perivoli is a beautiful old, traditional fishing village and has a small port where the fishing boats anchor. Worth a visit is the 17th century church of Agioi Saranta with its beautiful murals as well as the Church of Agios Athanassios.
PETRITI
The charming fishing village of Petriti is ​29 km south of Corfu Town. Petriti has a pretty little marina that's home to a couple of tavernas where you can sit and watch the colourful boats come and go as well as enjoying the scenery with a cold glass of Mythos or a carafe of local wine.
Petriti is a place for those that want to get away from the usual tourist hot spots and enjoy a bit of peace and quiet whilst on their Greek island holiday.
VATOS
Vatos is a small, tranquil village in the centre of Corfu island, ​12 km west of Corfu Town.
Although Vatos is located at a high altitude, it is only a few minutes drive to the popular beaches of Ermones, Pelekas, Glyfada and Myrtiotissa.
The valley around Vatos is actually a dried up lake, Ropa Valley, which stretches across a plain of about 2,500 acres in central Corfuit, is covered with olive trees and vineyards, and is a network of drainage ditches and canals which carry away the rainwater from the surrounding hills into the Ropa or Ermones River and then into the sea. The valley is an important wetlands habitat, home to a multitude of birds, reptiles, amphibians and fish.
The valley also hosts a large, 18-hole golf course and driving range near Ermones.